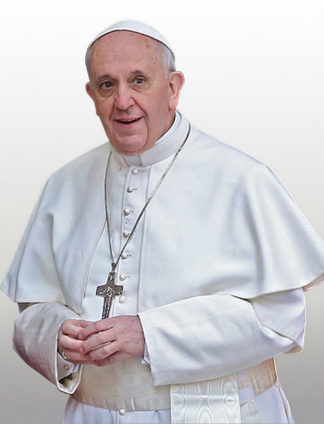 His Holiness Pope Francis
Pope Francis is the 266th and current Pope of the Catholic Church, a title he holds ex officio as Bishop of Rome, and sovereign of Vatican City. He chose Francis as his papal name in honor of Saint Francis of Assisi. Francis is the first Jesuit pope, the first from the Americas, the first from the Southern Hemisphere, and the first pope from outside Europe since the Syrian Gregory III, who reigned in the 8th century.
Born in Buenos Aires, Argentina, Bergoglio worked briefly as a chemical technologist and nightclub bouncer before beginning seminary studies. He was ordained a Catholic priest in 1969, and from 1973 to 1979 was Argentina's provincial superior of the Society of Jesus (Jesuits). He became the Archbishop of Buenos Aires in 1998 and was created a cardinal in 2001 by Pope John Paul II. He led the Argentine Church during the December 2001 riots in Argentina, and the administrations of Néstor Kirchner and Cristina Fernández de Kirchner considered him a political rival. Following the resignation of Pope Benedict XVI on 28 February 2013, a papal conclave elected Bergoglio as his successor on 13 March.
Throughout his public life, Pope Francis has been noted for his humility, emphasis on God's mercy, concern for the poor and commitment to interfaith dialogue. He is credited with having a less formal approach to the papacy than his predecessors, for instance choosing to reside in the Domus Sanctae Marthae guesthouse rather than in the papal apartments of the Apostolic Palace used by his predecessors. In addition, due to both his Jesuit and Ignatian aesthetic, he is known for favoring simpler vestments void of ornamentation, including refusing the traditional papal mozzetta cape upon his election, choosing silver instead of gold for his piscatory ring, and keeping the same pectoral cross he had as cardinal. He maintains that the Church should be more open and welcoming. He does not support unbridled capitalism, Marxism, or Marxist versions of liberation theology. Francis maintains the traditional views of the Church regarding abortion, marriage, ordination of women, and clerical celibacy. He opposes consumerism, irresponsible development, and supports taking action on climate change, a focus of his papacy with the promulgation of Laudato si'. In international diplomacy, he helped to restore full diplomatic relations between the United States and Cuba. Since the publication of Amoris Laetitia in 2016, Francis has faced increasingly open criticism from theological conservatives, particularly on the question of admitting civilly divorced and remarried Catholics to Communion.