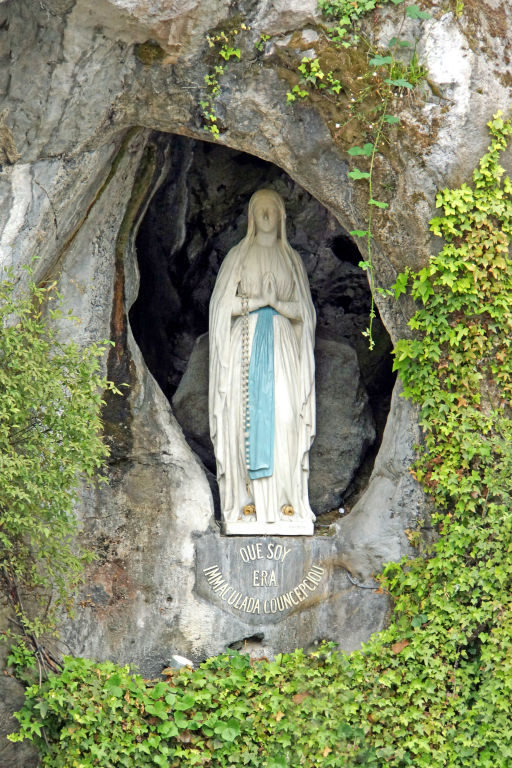 Our Lady of Lourdes is a Catholic title of the Blessed Virgin Mary venerated in honor of the Marian apparitions that reportedly occurred in 1858 in the vicinity of Lourdes in France. The first of these is the apparition of 11 February 1858, when 14-year old Bernadette Soubirous told her mother that a "lady" spoke to her in the cave of Massabielle (1 mile from the town) while she was gathering firewood with her sister and a friend. Similar apparitions of the alleged "Lady" were reported on seventeen occasions that year, until the climax revelation of Our Lady of the Immaculate Conception took place.
In 18 January 1862, Pope Pius IX authorized Bishop Bertrand-Sévère Laurence to permit the veneration of the Blessed Virgin Mary in Lourdes. On 3 July 1876, the same Pontiff officially granted a Canonical Coronation to the image that used to be in the courtyard of what is now part of the Rosary Basilica. The image of Our Lady of Lourdes has been widely copied and reproduced in shrines and homes, often in garden landscapes. Soubirous was later canonized as a Catholic saint.
In 1858, St. Bernadette Soubirous reported a vision of Our Lady of Lourdes. A simple 14-year-old peasant girl of no significant educational experience, Soubirous claimed she saw uo petito damizelo, "a small maiden," in white, with a golden rosary and blue belt fastened around her waist, and two golden roses at her feet. In subsequent visitations she heard the lady speak to her, saying Que soy era Immaculada Concepciou (I am the Immaculate Conception), and asking that a chapel be built there.
At first ridiculed, questioned, and belittled by Church officials and other contemporaries, Soubirous insisted on her vision. Eventually the Church believed her and she was canonized by Pope Pius XI in 1933. After church investigations confirmed her visions, a large church was built at the site.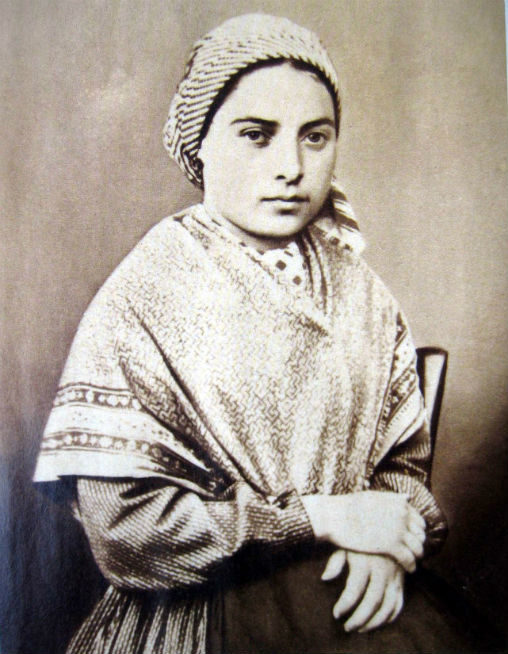 Basilica of St. Pius X at Lourdes, France